Purpose of the NRIS?
The Government of Malawi resolved to introduce the National Registration and Identification System (NRIS) to address problems associated with lack of universal and compulsory registration. NRIS will be achieved through:
Registration: The registration of births, adults, marriages, resident foreigners and deaths. This has been devolved to all the district councils in the country. The District Registration Offices in the office of the District Commissioner perform this function through the decentralized structures at district level.
Read More
Malawi Towards Digital ID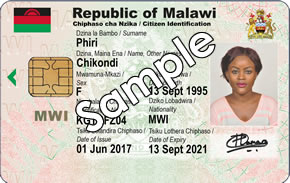 Welcome to the Official National Registration Bureau Website
The National Registration Bureau (NRB) is a Government Department under the Ministry of Home Affairs and Internal Security. The National Registration Act of 2010 mandates the NRB to implement, coordinate, manage and maintain the National Registration and Identification System (NRIS) in Malawi. NRB has the following deliverables: Birth and Death Certificates; National Identity Cards for bonafide Malawians; Identity Cards for foreigners; and Certificate of Registration of Marriage.
READ MORE